Scenic Food & Wine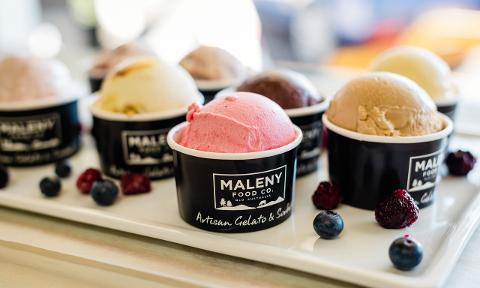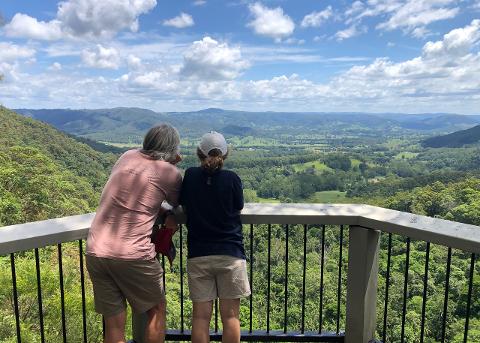 Duration: 9 Hours (approx.)
Location: QLD
Product code: Scenic
Min 2 Adults for the Tour to Operate
Highlights
The best day tour opportunity for a food & wine experience
Travel through the stunning Sunshine Coast Hinterland region for an unforgettable day
Sample a selection of award-winning local & international cheeses
Try a critically acclaimed signature gelato and sorbet (optional)
Visit a local cellar door to sample great wines while being educated
Enjoy free time in Montville Village to discover locally produced products
Visit Scenic lookout for amazing Glass House Mountain views
Price Includes
Lunch in a Queenslander Style Building
Free time to explore Montville Village
Stunning Views of the Glass House Mountains
Cellar Door Wine Tasting
Sample a selection of Local & International Cheese
Sample of Handmade Belgian Chocolate.
All transportation
Meals - (GFA) Gluten-free available (VA) Vegetarian available (VGA) Vegan Available *Other dietary options available
Itinerary
Glass House Mountains Lookout – 15 Minutes
Your first stop is Mary Cairncross in Maleny, on the aptly named Mountain View Rd. It looks east off the Blackall Range towards the coast where you will enjoy the gorgeous National heritage Listed Glass House Mountains.
Dairy town of Maleny – 1 Hour 15 Minutes
Our next stop is Maleny a picture-postcard dairy country town. Located 436 m above sea-level on the southern edge of the Blackall Range Maleny attracts painters, craftspeople and potters. During this time, you will enjoy cheese tasting and explore the town at your leisure.
Maleny Food Co
Enjoy a true cheese experience while you sample the finest Australian and international cheeses made by artisan cheesemakers. You will be provided with a cheese tasting board which would include a selection of cheese plus condiments to include quince jam, baby pickles figs, muscatels on the vine, dried fruit and crusty sourdough. Maleny Food co has a reputation as one of the premier cheese shops in Australia with a selection of more than 250 cheeses.
Clouds Vineyard The Barrel
Our next stop is Clouds Vineyard cellar door offering wine tasting of local award-winning wines. Here you'll smell and taste local wines whilst identifying the different aromas while learning the different grapes grown in our region.
Gerrard's Lookout – 15 Minutes
One of two scenic lookouts we stop at will be Gerrard's Lookout, high on the hill land this lookout offers coastline views to Coolum, Maroochydore, Caloundra and Bribie Island. Nearby
Lunch at Secrets on the Lake or The Edge Restaurant – 1 Hour
Depending on availability, your gourmet lunch will be at either "Secrets on the Lake" which is set in the rainforest on the side of Lake Baroon. a popular foodie destination near Montville enjoying panoramic views of Lake Baroon, or "The Edge Café Bar and Restaurant" in Montville which is perched on the edge of the escarpment & offers panoramic views of the Sunshine coastline. Regardless of the lunch venue, you'll enjoy a delicious 2-course meal included in the tour.
Montville Village – 30 mins
When we arrive at the Hinterland Village of Montville and following wine & chocolate tasting, you can spend free time checking out the delightful shops and boutiques, enjoying this picture-postcard village and its fresh mountain air.
Chocolate Country – 15 mins
Chocolate Country has been specialising in making and serving handmade chocolate to locals and visitors alike since 1993. Here you will experience a luxury handmade sampler box (one per couple) of four chocolates which you can take with you to enjoy in your accommodation.
It's late afternoon and you've bought yourself a couple of bottles of local wine to take home and now it's time to head back down to sea level where you will arrive back to your accommodation in time for a rest before dinner.
Reviews for Coast to Hinterland Tours
Show latest reviews
Loved to do the markets again.
"Josie the bus driver made all in the bus feel valued and safe. Her explanation of the area travelled through added interest and understanding. Loved the markets and all the usual and creative stalls."
"A Tripadvisor traveller review on 31 Aug 2022"
Wonderful Experience
"The whole experience, from design to actual event, has been wonderful. Mark has been very helpful in providing suggestions and fitting all options into a well-run tour that all students (mostly from USA and UK) have been thoroughly enjoying. Both drivers, Mark and Geoff, have very accommodating and had lots of interesting facts to share along the way. The van was clean and comfortable. The customer service was outstanding. I would highly recommend Coast to Hinterland Tours to anyone who would like to discover the Sunshine Coast."
"A Tripadvisor traveller review on 22 Aug 2022"
Great Private Hinterland Tour
"We had a great private tour with Peter. The tour was varied stopping at a waterfall and other good vantage points of the beautiful Hinterland countryside for pictures. Peter had lots of local info and the tour included wine tasting, schnapps and a filling meal at a german restaraunt followed by more drinks at another bar. A good way to sample the lovely area of the central Sunshine Coast."
"A Tripadvisor traveller review on 15 Aug 2022"
Fantastic day out
"The whole trip was fantastic. Great group of Kiwi's and Aussies. Even though it wasn't a day for good views at lookouts we all still enjoyed ourselves. Great cheeses and shopping at first stop. Most impressive lunch. Wines were okay. Chocolate shop and more shopping went down a treat. Guide was lovely and informative."
"A Tripadvisor traveller review on 12 Aug 2022"
Eumundi Market trip
"I really enjoyed the whole experience, except for the length of time. We arrived at 9.20am and by the time you queue for a toilet stop it didn't leave the advertised 3 hours. The market is so big, and difficult to find your way around.. If you didn't buy when you first spotted something - hard to find your way back in the short time frame. I would've liked at least another hour as there was a small element of panic trying to get round it all. Especially it you wanted to try something on."
"A Tripadvisor traveller review on 12 Aug 2022"