Introductory Dive Sunshine Coast Reefs - Single Dive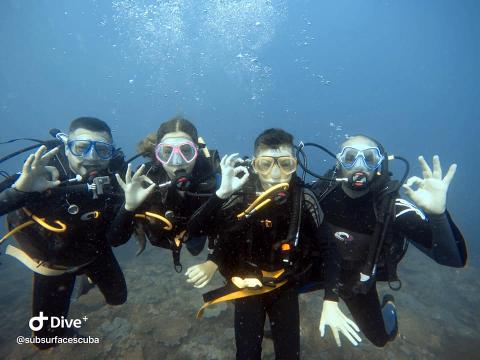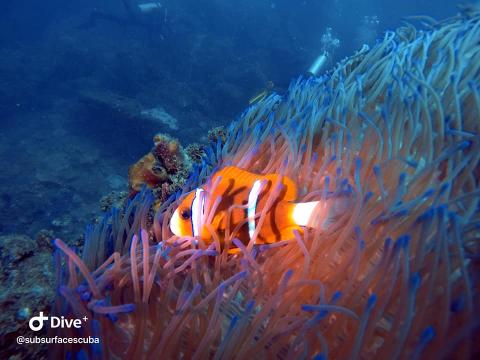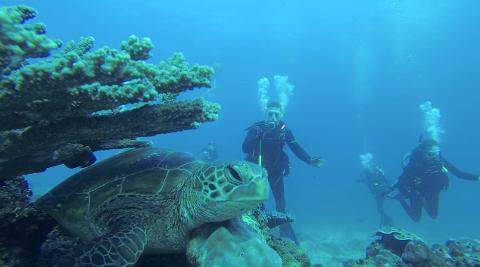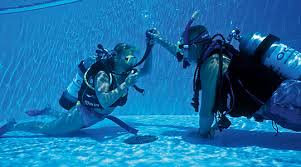 Duration: 3 Hours (approx.)
Location: Mooloolaba, Queensland
Product code: DSD001
An Introductory Dive is a great way to go Scuba Diving without being a certified diver. There is no need for experience as a dive professional will help you every step of the way. This experience includes a training session prior to your dive that is necessary for us to teach you all the necessary safety skills required, then we hit the open water and explore the beautiful Sunshine Coast local reefs. We only take small groups so you will be in safe hands. This is the perfect way to try Scuba Diving before you get your Open Water Certification. Here on holidays? We can make a trip tailored to suit your interests, wether it is Scuba Diving beautiful reefs or exploring ship wrecks, we will make it an experience to remember.
Reviews for Subsurface Scuba
Show latest reviews
Dive-ine experience- highly recommend
"My partner and I went today in Mooloolaba after having our original booking changed due to high winds. Steve contacted us earlier in the week offering us a few options to change the dive dates and worked with us to make sure it worked with our timelines, and even a little rain couldn't put a damper on the day. It was my first time diving, and my partner was doing a refresher. We were well informed before jumping in that the surface was a bit choppy and were well prepared when we jumped in. At all stages of the dive we were kept informed of the conditions, and we were both checked up on throughout the day (me moreso due to the first dive.) Steve and Louise were both incredible - they kept me calm and supported me even after I panicked under water on the first dive. I knew that I was in safe hands when Steve brought me back to the surface, and though he didn't force me back in for the second dive, I'm glad I got back in the water. We went down slow and steady, and Steve held my hand through it all to provide a really safe experience for me. Louise was an absolute joy on the boat, and though we didn't dive with her, she was very supportive up top for us and brightened our day. My partner and I both enjoyed the sights- we saw some beautiful fish, sharks, and even a friendly turtle who swam along side us for a while. Highly recommend for newbies and experienced divers alike."
"A Tripadvisor traveller review on 12 Jul 2022"
Not the experience we were hoping for
"Disappointing but more-so terrifying. I could write a book and have unfortunately re-lived this awful experience many many times…but in short: we signed up and paid for a dive leaving from 'Noosa' ('a sheltered bay'), we then found out they don't actually have boats leaving from there and we were expected to find a way/drive to Mooloolaba. It was made clear to us that if we didn't go where they expected us to go from, we wouldn't be reimbursed. This dive was post the ongoing floods in QL and we were taken out on a day not suitable for a safe diving experience. Winds were 40K (20+ knots) and swells were 2-3 metres. It was a lengthy boat trip out (45+ min) and once we arrived we were met by anything but ideal conditions. Our small group decided to brave the water (I myself wanted to get in asap to help with sea sickness) and once in the water we were met with a strong current (on top of the large swell). We were told we would be descending via a fixed line attached to the front of the boat, which to get to we had to traverse using a rope attached to the side of boat. As we held on we were being lifted well out of the water and then plunged underneath, often smashing our tanks into the boat. All this while…we were not being told any clear instructions on how to continue. After a few minutes of this hell-on-earth I chose to leave the water. Once I aborted the dive the others re-entered from the back of the boat via a different rope (which was a better entrance but not ideal as there was no fall-back rope/plan B if the current pulled you from the line. Apparently once you got down past 5m the visibility improved and the current stopped, and the 2 dives were OK. That said, the group concurred that despite doing many dives in many countries (one person had done over 100), no one had experienced an entrance even close to that amount of crazy (ie: no swells or currents near that level let-alone both at once. I was told by the owner that it was a "pretty standard day" for them and that I really should have done a dive refresher first (despite me having no concern with the technical diving, the conditions were simply insane)."
"A Tripadvisor traveller review on 11 May 2022"
They will steal your money
"Do not trust this business.I've reported the company to fair trading . They don't answer any calls or email from them . Last communication I had with Steve was a promise that they would refund me . Never happened ."
"A Tripadvisor traveller review on 26 Apr 2022"
Great experience on the Sunshine Coast!
"Steve and the gang were communicative and fun. Booking was super easy and I had personalized experience as it was mid-week. Very professional, gear was in good shape, and the dive was fun. As a relatively new diver, I felt safe and well taken care of. We were staying in Caloundra and the boat was an easy 25 minute drive in the morning."
"A Tripadvisor traveller review on 23 Mar 2022"
11/10 Snorkelling Experience
"Did a snorkelling trip to Mudjimba Island with some friends as part of our schoolies trip. Had the most amazing time. Snorkelled around the island's reef. We were told that we would see some turtles - at least 20 turtles at one point surrounded us. The best snorkelling tour I've ever done. The team were very friendly and helpful. I'm definitely doing this again when I'm back in Mooloolaba"
"A Tripadvisor traveller review on 27 Jan 2022"